Seedforth Agro
as the sole representative of Novagric Spain (
www.novedades-agricolas.com
) is proud to introduce the APRKit 336 Greenhouse. This greenhouse kit is a solution for new and professional growers that has been adapted to suit our environmental parameters providing farmers with improved conditions for the cultivation of various greenhouse crops.
APR336 GREENHOUSE KIT ADVANTAGES
High production and performance of the crop
Top quality greenhouses – manufactured in Spain to meet European standard
More efficient use of inputs in irrigation, fertigation and hydroponics
Better pests, weeds and disease control
Designed for all kinds of crops & adaptable to every weather condition
Ensures development of plants through the year
Easy installation and greenhouse maintenance
Exceptional value for money!
APR336 Greenhouse kit has the following options:
Greenhouse Model APRKit 336
Crop wires & Growth Support – Including ropes & clips
Irrigation/Fertigation System with Electro pump
1. GREENHOUSE MODEL: APRKit 336
This greenhouse kit is a chapel type greenhouse with a total growing area of 336m2
Dimensions
Total Growing Area
336m2
No of Modules
1
Width
8m
Lenght
42m
Gutter's Height
2.8m
Anteroom Size
13.8m2
1.1 QUALITY AND CERTIFICATION
Material are made with the following characteristics:
Pillars,Arches,ProfilesandBars: Manufactured in welded galvanized pipes coming from galvanized coils under UNE-EN 10142:2001 norm. Steel type Fe P02G.
Screws and bolts: Bi-chrome steel, under DIN rules and with a superficial treatment of quality "DeltaProtektKL-100", which provides a treatment for a high resistance against rusty.
The Materials of this Greenhouse Structure (Pillars, Arches, Profiles, Bars, Screw and Bolts) are of high quality and viability. Provider companies are certified according to international norms UNE-EN ISO 9001:2008.
2. CROP WIRES & GROWTH SUPPORT
All materials required for the trellising installation are included in this offer:
Galvanized steel wire Ø3mm
Front tube and fittings
Wire height: 2.40m from the ground
Also included are the elements needed to guide plants during their growth:
3. IRRIGATION & FERTIGATION SYSTEM
3.1 Irrigation Pipes and Drip Lines
3.2 Fertigation Equipment
3.3 Irrigation Pump
3.1 Irrigation Pipes and Drip Lines
The system is composed of tertiary pipesmade of PE PN-4 with Ø 32 mm, fed from one end, 8 m long, where driplines pipes are fed.
The dripping materials have the following characteristics:
It is recommended to place 5 doubles lines of crops, separating from each other 1.80 m and the ones on the bands placed 40 cm from this.
3.2 Fertigation Equipment
This helps with the injection of fertilizers in a simple and easy way and has the following components:
Filtration equipment with manual cleaning
Pressure gauges
General valve
3.3 Irrigation pump
This comes in two options of either gasoline or electric powered. The pump powers the irrigation/fertigation and ensures no part of the greenhouse is deprived of needed water and nutrients at the perfect pressure.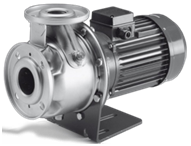 Irrigation Electro-pump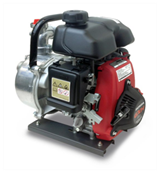 Gasoline Powered Irrigation Pump